In the spirit of giving, North American Steel and Liftow brought out an extraordinary charity golf tournament, where compassion met the goal. Cardinal Golf Club served as the backdrop for this remarkable event, uniting us all in support of Daily Bread Food Bank Toronto—a non-profit organization dedicated to eradicating hunger and supporting the vulnerable. The generosity of our community shone brightly as we raised an impressive $18,205, a beacon of hope that will propel Daily Bread Toronto's mission forward, leaving a mark on countless lives.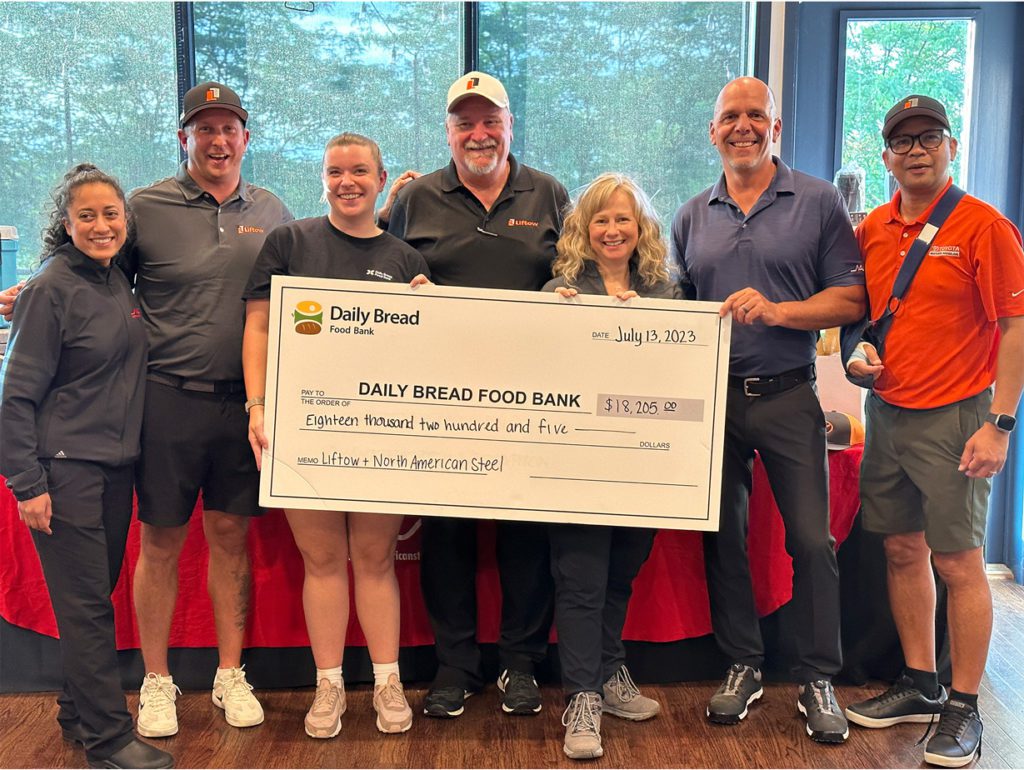 Event Highlights:
The charity golf tournament saw an incredible turnout, with 120 attendees coming together for a day filled with camaraderie and purpose. Despite the initial weather forecast, the rain clouds stayed at bay, and we were met with clear skies—a sign, perhaps, of the positivity and goodwill that lay ahead. 
As golf enthusiasts took to the course, they displayed remarkable sportsmanship, competing passionately yet fostering an atmosphere of support and unity. From fun challenges and raffles, the participants reveled in the camaraderie and the knowledge that their efforts were supporting a noble cause. 
Post-golf, an elegant dinner awaited the participants. Laughter and stories of the day's adventures filled the air as everyone gathered to celebrate the cause they were championing. 
Special Thanks:
We extend our heartfelt thanks to our sponsors for their invaluable contributions. Their generous support played a pivotal role in making our event a grand success and adding to the excitement with amazing prizes and rewards. 
The event received support from individual hole sponsors, who generously sponsored various holes: 
The event also benefited from generous contributions from the following sponsors who provided prizes: 
Toyota Material Handling Heavy Duty 
To our participants and volunteers, we extend our heartfelt gratitude. Your unwavering support and contributions have made a significant impact on the lives of those in need. 
A Picture-Perfect Day:
For those eager to relive the magical moments or witness the joyous atmosphere, we invite you to explore the photo gallery. The smiles and enthusiasm captured in the images are a true testament to the positivity and impact of this charity golf tournament. Another special thank you to Chris Somos of TICF for capturing the professional photos featured in the gallery. 
Inspired by Unity for Tomorrow:
Our hearts are filled with immense pride as we reflect on the profound impact of this charity golf tournament in support of Daily Bread Food Bank Toronto. We express our sincere gratitude to everyone who played a part, be it on the golf course, behind the scenes, or in the form of a donation. Together, we've proven the remarkable strength of collective effort and compassion. 
Click more to Request a Quote!