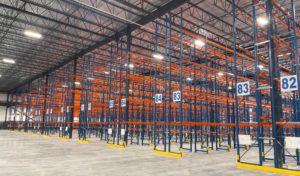 As a leading North American manufacturer of Steel Pallet Racking and Industrial Storage Systems, North American Steel understands how critical the right choice can be when deciding on a racking system for your warehouse and makes every effort to keep any associated long-term costs to a minimum.
As what often happens to many commodities, Steel prices in North America have continued to rise, increasing the cost to manufacture and procure Steel racking for industrial storage use. As a result, choosing Foreign-Made Steel racking as an option in domestic warehouses has become a serious consideration due to the lower upfront cost.
While it is important to factor in upfront costs when making such a substantial investment in your business, it is also essential to ask the question – What is this foreign racking system potentially going to cost me in the long run? And are those costs strictly monetary?
In the following article, we will outline the most relevant factors to be considered while researching a pallet racking system for your warehouse. It is important that you make an informed decision about whether foreign or domestic made racking is the best solution for your business.
ORIGINS OF STEEL & QUALITY ASSURANCE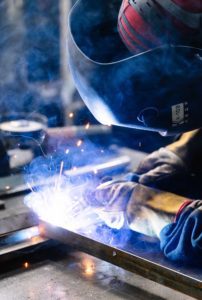 When purchasing a heavy-load bearing structure such as pallet racking and industrial shelving systems, it is important to have full transparency from the OEM (Original Equipment Manufacturer) when it comes to the origins of the raw materials used in the manufacturing process. In the case of industrial racking systems, understanding the origins of the Steel used in the production of critical components is the first main issue to keep in mind.
Not all Steel is created equal, and there is often a reason behind the lower cost associated with foreign-made Steel. It has been found in some foreign Steel that elements such as Boron have been used in production to help cut costs, however such a practice also results in safety concerns when using this Steel to produce structural components. The element Boron is known to cause welds to crack. It is not difficult to understand the dire consequences this will have on a Steel structure designed to continuously support thousands of pounds of weight.
When working with a Domestic Manufacturer of Steel Racking Systems and Components, there is far greater transparency when it comes to understanding the exact origins of the Steel used in the production of Steel components. Most, if not all Domestic racking manufacturers, including North American Steel, will source Steel for production from Domestic Steel mills with long track records of quality and consistency. This information is readily available upon request.
This leads us to the next fundamental consideration when making a purchasing decision for your industrial storage system; 
ACCESSIBILITY OF RACKING HARDWARE, REPLACEMENT PARTS, AND SERVICE
When working with a Domestic racking manufacturer as a purchaser or end-user, you have direct access to the OEM of that system, with full transparency. You also have access to a wide range of local distributors, sub-distributors, integrators, and service providers who can provide access to components and services relating to the domestic racking system in question. The location of your storage system is not a huge concern, as if you are working with a well established Domestic racking manufacturer such as North American Steel, you would have access to suppliers and authorized service centres near you. This allows delivery, inspection/certification, repairs and maintenance to be far more accessible and cost effective.
In the case of imported racking, end-users and purchasers are typically forced to deal directly with the national distributor of the foreign racking system. There is potentially no transparency or communication between the end-user and originating manufacturer, which is problematic in many cases. Additionally, imported racking systems often lack the accessibility of domestically manufactured systems. There is typically only a single end-point which is responsible for servicing an entire country or region. If your warehouse is not located within close proximity of this distributor, increased freight costs, longer lead-times, and lack of local access to professional service or maintenance may add to substantial long-term costs.
The type and complexity of your racking system may also play a huge factor in the on-going costs involved when deciding between a Domestic or Foreign racking manufacturer. As industrial warehouse spaces continue to grow in both size and complexity of operations, so do the racking systems. Most imported racking is knockdown or bolted racking. While NAS is a manufacturer and supporter of knockdown racking products, we also understand that it is not always the first choice for all applications. For many busy, large scale warehouses, welded and structural Steel racking is still the most viable option when it comes to durability and long-term reliability. As a manufacturer of all types of Steel racking, NAS can offer the system that is perfectly suited for your business' requirements, while a distributor selling foreign-made racking may offer very limited solutions that are not able to meet your needs. Although imported racking systems may initially come with a smaller upfront price tag, consideration should be given to the hidden long-term costs of ongoing maintenance and repairs. 
If you decide to work with imported racking, expect significantly longer lead times and disproportionately higher costs for non-standard and specialty products and gauges. Replacement or repair of speciality parts may also include a higher price tag and delayed delivery times when ordered in small quantities.
Another consideration is that on many racking projects, specialty parts required to complete the system are often dependent on last minute field measurements of installed components in order to finalize the required finished dimensions. A Domestic racking partner would be at the ready to manufacture those items and ship them to site during the installation phase. A Foreign racking provider will need all measurements upfront so all components can be shipped in the container at once. This forces you, the purchaser, to "work with what they sent", instead of working with exactly what you need.
CERTIFICATION, PSRs & ONGOING MAINTENANCE 
Any racking system within North America must undergo inspections and certifications once erected and prior to active use. Depending on the racking system, this process may prove more costly and challenging than originally anticipated, so it is important to understand that process and how it may affect your business operations in the long run. 
Racking systems in Canada require an inspection and a Manufacturers Capacity Certification or Pre-Start Health & Safety Review (PSR) when they are first installed and will require on-going inspections throughout the life of the rack structure to ensure and maintain its safety and stability. PSRs not only pertain to the beams within the racking, but they also consider the frames, press brakes, and safety devices integrated into the racking. This illustrates that industrial racking is considered by the Government as a Critical Component which can be easily damaged and reconfigured, thus making your racking system something that will not be taken lightly by provincial and municipal labour boards. North American Steel recommends annual inspections of the racking as a minimum standard for safety, to ensure there are no damages that will affect the long-term usage and integrity of the structure.
When you work with a domestic manufacturer, you will benefit from a PSR Exemption when the racking system is initially installed, saving valuable time, money, and resources. When future inspections or elevation changes requiring PSR's are required, you would have access to a Material Handling Engineer to certify Canadian made racking because of the consistency in the component design and manufacturing processes of Domestic manufacturers. Foreign components are unique between suppliers, so every item for every project would need to be measured manually by the engineer for strength calculations, Canadian Welding Bureau (CWB) compliance, and Steel yield strength. 
In the case of imported racking systems, these certification processes may become substantially more costly and difficult. Finding an engineer who is willing and able to inspect and certify foreign-made Steel racking may be very challenging. If your facility is located outside of a major metropolitan area, this may prove even more difficult.
Even with a certification, the origin and content of the Steel used in imported racking will continue to be difficult to confirm. There may always be a lingering question as to the safety and reliability of the foreign racking system for your warehouse employees and your managers. 
The challenges related to certification and recertification of imported racking lead us to the next concern when it comes to purchasing an industrial storage system;
AFTERMARKET VALUE & LONG-TERM INVESTMENT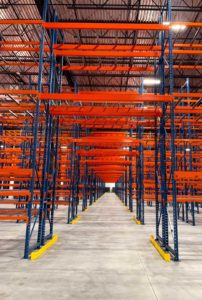 When investing in industrial warehouse space, a large component of the investment that goes into that real estate lies in the racking and storage equipment that is installed within. These are systems that can cost hundreds of thousands, or even millions of dollars, and are an essential part of the functionality of a warehouse. If you are ever in a position to sell or lease out your warehouse space, many purchasers will evaluate the racking system that is already in the building to help determine the value of the facility as a whole.
Domestically manufactured racking maintains aftermarket value, so long as it has been continually inspected, certified, and maintained over the years. This is because the origins of the parts and the Steel used in the manufacturing process can be traced and verified. Buyers face significantly less risk when purchasing pre-existing Steel racking that was domestically manufactured.
Racking imported from overseas offers very little, if any aftermarket or resale value, as it poses high risks to many buyers in terms of safety and reliability. It is also extremely difficult and costly to recertify and verify the origins of foreign racking. Additionally, many investors understand that removing a non-viable racking system can prove cost prohibitive in time and labour. Many buyers are simply not willing to take the risk and place no value on these types of racking systems, which can negatively affect the overall value of your industrial property. This may also be a concern for capital lenders, who would consider the viability of the racking in their valuation.
THE HUMAN COST
The biggest and most important consideration and potential cost when deciding on Domestic vs Foreign racking is the human cost.
The reality is, when you are purchasing racking, you are purchasing a massive Steel structure which is meant to support thousands upon thousands of pounds of weight over a long period of time. This structure also happens to have human beings working in, on, and around it often 24 hours a day. This is not the type of purchase that should be taken lightly. There are reasons that domestic standards for design, engineering, use, and safety exist for pallet racking systems.
When working with a domestic racking manufacturer, you can rest assured and have full confidence that what you see is what you get with your racking system. The capacity tolerances, the Steel gauge, the engineering, and the safety standards are all there to ensure that your employees are operating under the safest possible conditions.
Would you have the same level of confidence when considering a purchase of racking imported from overseas? If there is even a single doubt or question left unanswered by a supplier of these systems, this should be a cause for concern.
IN CONCLUSION
Planning for, budgeting, and procuring an industrial racking system is a complicated process. It requires a great amount of expert planning, consultation, and engineering to be certain it is done right the first time. When you issue your RFQ and begin looking at proposals from various racking manufacturers and distributors, do not immediately dismiss those with the higher price tag, as those with a lower price tag may include unforeseen costs that can extend far beyond just dollars and cents.
If you are planning a new industrial storage system, or require assistance with maintenance or replacement of an existing racking system, reach out to North American Steel today. One of our racking and storage system experts will be happy to help you with your project.